Chemical plants BASF Antwerpen
BASF Antwerp is the largest industrial complex in this part of Europe. The complex includes 54 production plants employing each day approximately 3,500 employees. It belongs to the international concern BASF SE headquartered in Germany - the largest chemical company in the world. The plant has been manufacturing 9,000 different chemical raw materials and has on its territory its own power.
Shipyard Keppel Verolme Rotterdam
Keppel Verolme Shipyard in Rotterdam was founded in 1957 and belongs to a group of Keppel Offshore & amp; Marine holding many shipyards around the world, inter alia in Brazil and Singapore. On its territory are carried out repairs, reconstruction and construction of new vessels as well as offshore platforms. It is located in the industrial part of the largest European port of Rotterdam.
DSM Chemelot industrial complex in Geleen
DSM Chemelot in Geleen is the industrial complex mainly for the chemical industry located in the vicinity of the intersection of the A2 and A67 in the Dutch province of Limburg. Some of the companies established in the territory of the industrial park are leaders in their field in the world. Earlier this industrial complex dates back 1924 years.
Chemical plants INEOS Zwijndrecht
Ineos Zwijndrecht factory was established in 1998 and is a chemical plant belonging to the INEOS Group Limited employs about 16,000 workers, becoming the one of the leading chemical companies in the world. This group includes 73 factories in countries such as Belgium, the Netherlands, Mexico, Germany and many others around the world. Betting in Zwijdrechcie mainly engaged in production of plastics, among others, ethylene oxide, propylene oxide, propylene glycol, and ethyl.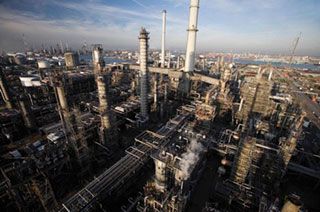 ExxonMobil Antwerp refinery
Exxon Mobil refinery in Antwerp is the oldest and also the biggest refinery Exxon Mobil in Benelux. Founded in 1956 and then in 1976, underwent a complete renovation. He is currently the largest manufacturer of solvent in Europe and provides a lot of raw materials for the chemical industry. Everyday on its territory operates more than 1,000 workers from many countries across Europe.
The chemical plant Dow Terneuzen
Dow Terneuzen is the second largest manufacturing plant of The Dow Chemical Company in the world and the largest place of Dow Benelux